iFixit Finds Repairing the iPhone 12's Camera Makes it 'Entirely Unreliable'
Despite scoring the iPhone 12 a "6 out of 10 for repairability," iFixit has found that its standard camera module repair tests were "unreliable," giving a buggy and inconsistent experience. In short, it fails. Despite the iPhone 12 being designed to be repaired – most parts can be replaced and the design prioritized using screws […]
Despite scoring the iPhone 12 a "6 out of 10 for repairability," iFixit has found that its standard camera module repair tests were "unreliable," giving a buggy and inconsistent experience. In short, it fails.
Despite the iPhone 12 being designed to be repaired – most parts can be replaced and the design prioritized using screws instead of glue – iFixit says that its testing revealed inconsistencies when fixing the camera module. Despite not having issues with other iPhone models, it found that when transferring an iPhone 12 camera to another iPhone 12, it "fails miserably in actual use"
"It refuses to switch to the ultrawide camera, responds only to certain camera modes, and occasionally hangs and becomes completely unresponsive," iFixit reports.
This result matches a repair test by YouTuber Hugh Jeffreys:
YouTuber Louis Rossmann also agrees:
iFixit says that to this point, the camera module has been very easy to repair by swapping it with another module from the same generation iPhone. Add to this is an internal Apple training document that tells authorized technicians that starting with the iPhone 12, they will need to run Apple's proprietary cloud-linked System Configuration app to fully repair cameras and screens.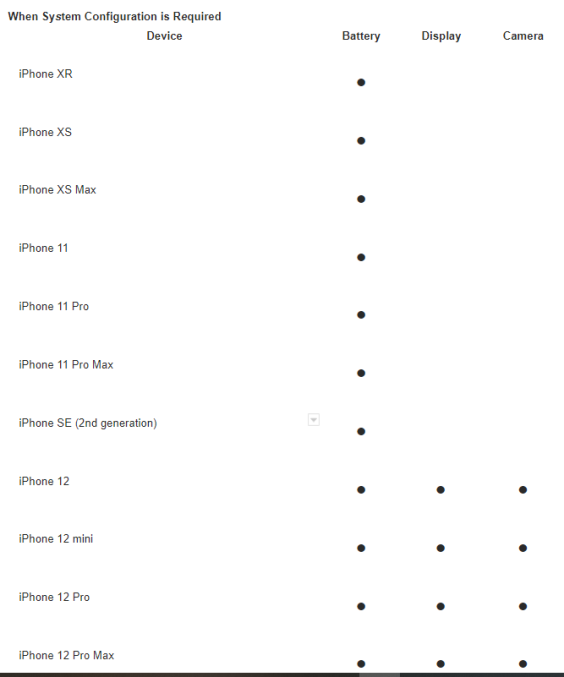 So while this doesn't mean a third-party repair on an iPhone won't work, it does mean that there are problems and is yet another example of Apple's "attack" on independent repair shops. Rossmann has been fighting this fight for years now:
For its part, iFixit is giving Apple the benefit of the doubt here and is currently waiting to hear back from the company regarding its findings on camera repair. That said, iFixit says that there is still reason to be concerned.
For more from iFixit and to read the full blog on its findings, click here.
---
Image credits: Repair icon made by Chanut from flaticon.com