Short Film of Iceland's Eruption Views it as a Collective Human Experience
Two filmmakers created a short film, "Volcano for the People," that explores the recent Iceland volcano eruption less as a natural phenomenon, but more as a collective experience that brings humanity together. When Iceland's Fagradalsfjall volcano began erupting in March, many photographers, filmmakers, and nature enthusiasts eagerly traveled to the country not only to document […]
Two filmmakers created a short film, "Volcano for the People," that explores the recent Iceland volcano eruption less as a natural phenomenon, but more as a collective experience that brings humanity together.
When Iceland's Fagradalsfjall volcano began erupting in March, many photographers, filmmakers, and nature enthusiasts eagerly traveled to the country not only to document it but also to witness the natural wonder in person. For everyone else who has not been able to travel to see this phenomenon, captivating photographs and videos have already been shared by several photographers and filmmakers, such as this documentary of its formation, or the sounds of the eruption, or the experience of getting up close.
Two photographers and filmmakers, Donal Boyd and Frank Nieuwenhuis, decided to change the narrative and explore this volcanic eruption as a collective and also personal experience shared by thousands of people by creating a short film that focuses primarily on the spectators being at one with nature, more so than the actual eruption itself. The intention of creating this project was to illustrate how this volcano eruption impacted the lives of the people who visited.
Generally, enjoying nature is seen as a solitary venture, especially for photographers who are exploring new and untouched areas to capture. However, this time the Fagradalsfjall volcano brought thousands of people together making it impossible to enjoy the natural event alone.
This is the moment that Boyd refers to as the realization that perhaps this is something that shouldn't be enjoyed alone but should instead be shared with others, with one of the interviewees from the short film comparing it to enjoying a public performance, while others compared the experience to being at a festival or at a camp.
One of the common feelings that visitors shared was the appreciation for experiencing something that is unique and could vanish at any time to not be seen again for decades or longer.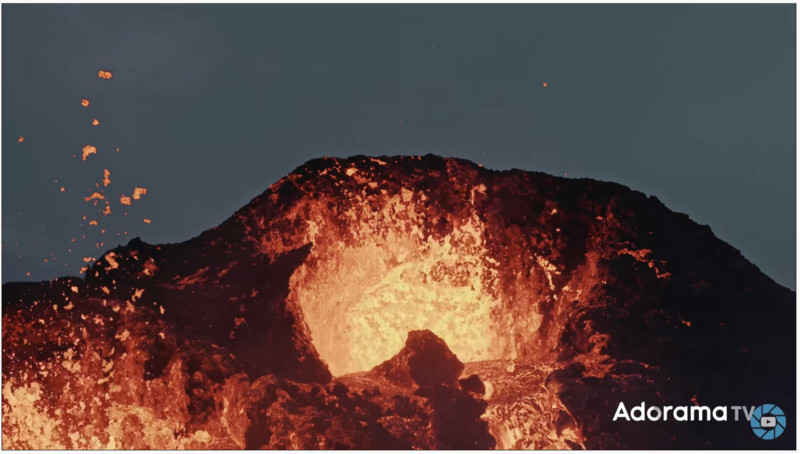 As opposed to volcanoes in Iceland in the past, this time the eruption was more easily accessible via hiking as opposed to only reachable by helicopter or other modes of transportation that may not be easily available to the general public. This allowed everyone who was willing, even families with children, to participate in this once-in-a-lifetime spectacle. The two filmmakers point out that this time it's clearly visible that the people are not fearful of this force of nature and are embracing it instead.
The duo also partnered with Adorama TV to create a behind-the-scenes video showcasing how they planned, shot, and edited this short film. Even though most of the footage and photographs shared by photographers and filmmakers show picturesque landscapes and people enjoying the scene in close proximity, secure access and safety should not be underestimated.
Boyd and Nieuwenhuis were familiar with the security protocols in place, including the advisory system set up by the Icelandic Meteorological Office, which released daily updates of the viewing conditions at the eruption site, which helped the team plan their shoots every day. Meanwhile, trained volunteers helped set up hiking trails, parking lots, and more, while ensuring the safety of the visitors.
Their behind-the-scenes video is accompanied by a detailed description of the equipment they used and practical advice to fellow photographers and filmmakers who may encounter similar scenarios. Boyd points out that you can never be too cautious when dealing with a natural phenomenon that produces hot lava. Not only is it dangerous for people, it also has can very easily damage equipment as some have melted their drones by flying too close. Although drone footage can be incredible, personal and equipment safety should be the top priority.
Boyd mostly relied on his Sony a7R IV as his main camera combined with Sony FE 135mm f/1.8 GM lens. The field of view produced by the lens gave Boyd the optimal distance to allow him to photograph the lava spitting out of the main craters, compared to longer lenses which produced a view that was too narrow for his preference. A full list of Boyd's advice and gear for photographing a volcano can be found on Adorama blog.
---
Image credits: Photos by Donal Boyd and used with permission.