Fujifilm X-S10 Review: The Welterweight Challenger
Fujifilm is considered by many to be the champion of the APS-C sensor space. Heavyweights like the X-T4 and the X-Pro3 dominate the ring with first-class features – for an equally heavyweight price. So, what is available to someone with a more modest budget who still wants to get in the ring? Enter the Fujifilm […]
Fujifilm is considered by many to be the champion of the APS-C sensor space. Heavyweights like the X-T4 and the X-Pro3 dominate the ring with first-class features – for an equally heavyweight price. So, what is available to someone with a more modest budget who still wants to get in the ring?
Enter the Fujifilm X-S10, which is a new line for Fujifilm positioned at $999 for body-only and despite the lower price, Fujifilm has included an impressive feature set with this camera including the X-Trans 4 BSI CMOS sensor and X-Processor 4.
You're going to see the same high-level image quality from a flagship model, but because it is not priced like a flagship there are of course some small compromises: there is no weather sealing, it's a smaller size (which some people might think is a good thing), lower buffer performance, and some other minor sacrifices that we will discuss. But all that said, this is actually an impressive package considering the price.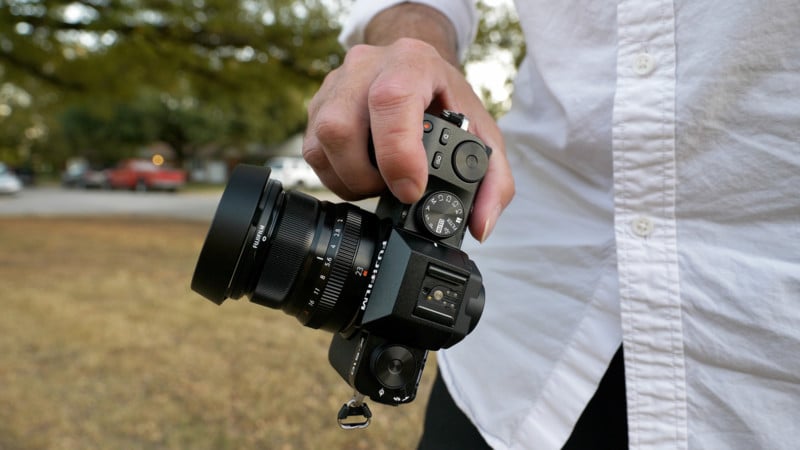 This has been a year of what seems to be the "onboarding" models from camera manufacturers. I wouldn't call these bodies "entry-level," but these models fall somewhere between the entry cameras and the flagships – sort of a new tier designed to target new users into a different system using familiar features and a low-enough price: if you're only spending somewhere between $999 and $1799 you might be persuaded to try out a flagship model. Starting with the Canon RP and continuing through the Nikon Z5, Panasonic S5, and even the Sony A7C, we have varying prices, but similar feature sets and target markets. The Fujifilm X-S10 comes in on the lower end of that price scale but gives us an impressive package of features previously only found on much more expensive cameras.
Design and Features
The Fujifilm X-S10 is extremely compact. It actually reminds me of some of the nice compact designs we've seen from Olympus, and the ergonomics are excellent for a small camera. It's not overbuilt and is extremely comfortable to use. The design falls somewhere between the X-T4 and the X-H1, but in a much smaller form factor. It has a vari-angle flip screen, so Fujifilm are clearly targeting video creators as much as they are still photographers.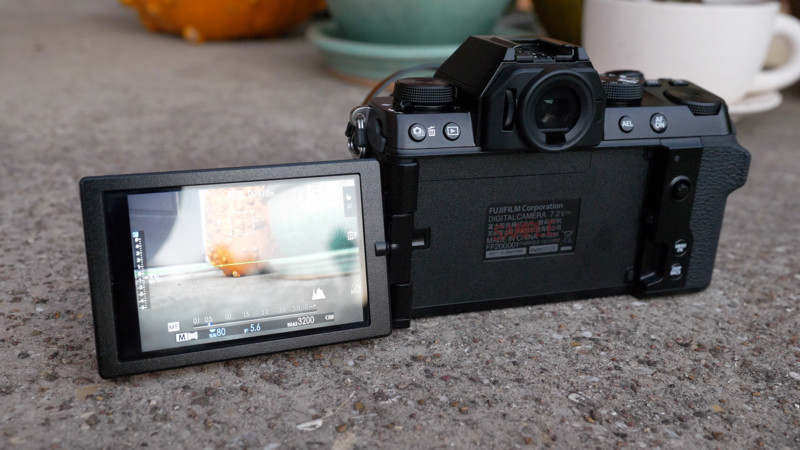 The "PSAM" dial-based layout is more in-line with conventional cameras and less with what Fujifilm have established with their popular models. This design choice will likely be criticized by committed Fujifilm users, but it's clear with this camera that Fujifilm are designing for simplicity – which will possibly attract new users to the system.
Almost all of the buttons are customizable, including the four touch gestures. As a result, any photographer will acclimate to this system very quickly.
There is a new function on the X-S10 which will be useful to some: by default, the top knob on the left of the camera will bring up the Fujifilm film simulations. While this menu is displayed, you can press the Q button on the right top side and it will bring up descriptions that are scrollable for any of the 18 simulations available in the camera. All simulations are up to date with current Fujifilm models.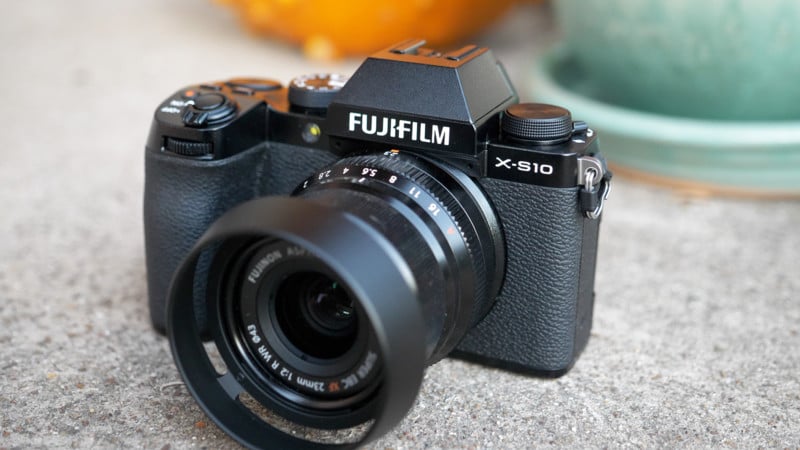 Speaking of current, this camera does use the X-Trans 4 BSI CMOS sensor and X-Processor 4 combination, therefore the image quality is the same as what you'll get out of the X-T4. Of course, the overall shooting performance will be different, but I think this is very fair. It gives you a baseline image quality you can expect, but then you may select a model based on budget versus feature set from Fujifilm's whole lineup if you decide you need more.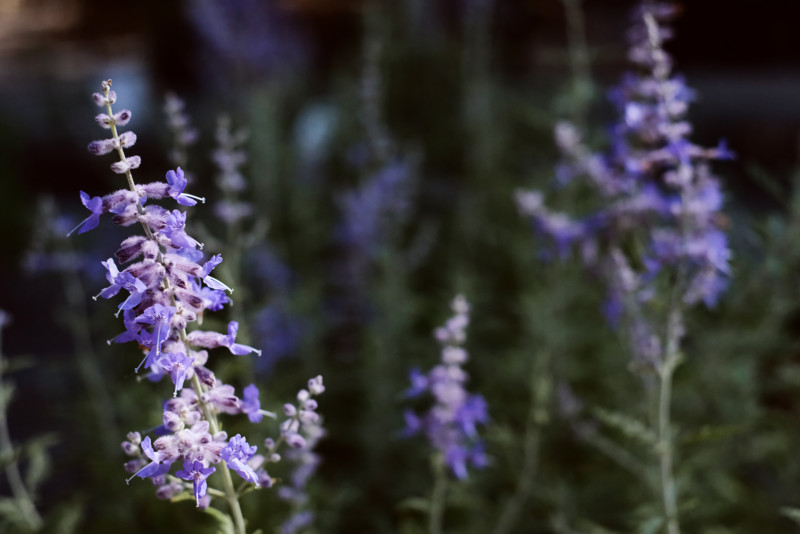 Fujifilm has included a pop-up flash as well as a hot shoe connection for external flash options.
The Tradeoffs
I should preface this by saying that the Fujifilm X-S10 is obviously less expensive than Fujifilm's flagship cameras and you should expect some obvious side effects of that. For one, it uses the older NP-W126S battery. That being said, Fujifilm has given us a much more advanced feature set than what you'd expect from an economically priced camera – just with limitations.
For example, you do get the capability to shoot 30 frames per second burst rate with a crop much like you'd find on the X-T4, but the buffer is much tighter. When shooting RAW + JPEG I was getting about 11 frames before it would start to slow down as the buffer was trying to clear. JPEG-only yielded much better results, but it does slow down at certain points.
I think this performance is acceptable on a camera at this price point.
If you are actually serious about shooting sports, you'll be looking at least for an X-T3. The X-T3 is at the same price when it's on sale, but the X-T3 has no in-body image stabilization.
But the X-S10 does, and it's the best performance from any IBIS I've encountered on a Fujifilm.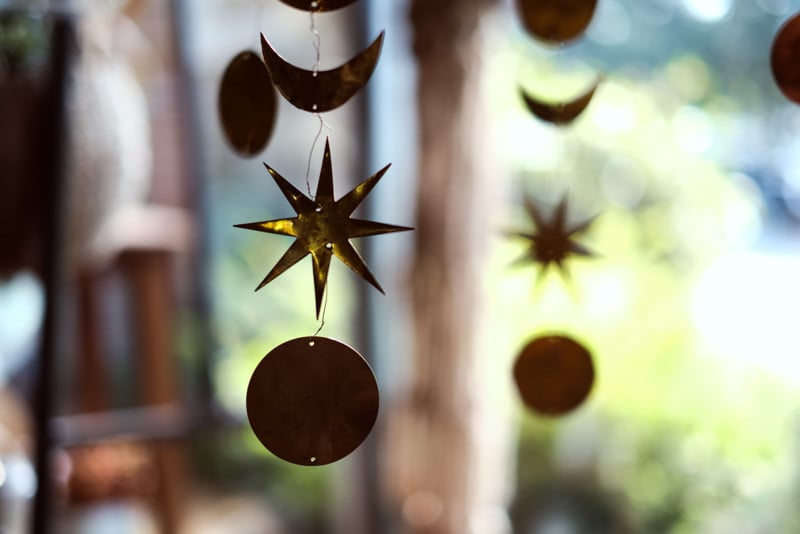 Fujifilm informed me it's actually the fourth generation of image stabilization: the first would be the X-H1, second the GFX100, third the X-T4, and now the X-S10. It's essentially the X-T4 with updated algorithms and operates excellently in both stills and video. It works best when paired with a lens that has optical image stabilization (lens and sensor stabilization will work together), but still does a great job on its own. You can expect essentially a 6-stop advantage with the IBIS alone versus 6.5-stops when paired with an OIS enabled lens.
Personally, I feel like the current standards for in-body image stabilization don't really communicate what you'll experience as a photographer in real-world use. There are too many variables ranging from focal length, distance, sensor size – even down to how much coffee you drink before you shoot. But, let me just say from my experience shooting on this camera: IBIS is excellent in both stills and video. For stills, you have the physical advantage of an APS-C sensor, and obviously, this will differ from lens to lens depending on focal length. But the ability to handhold still shots down to half a second (as I did with the XF 33mm f/1.4) gives a great deal of versatility to this camera.
In video use, the IBIS is excellent for hand-held footage, even with longer lenses. It will not replace a gimbal for long tracking shots or vlogging, but as mentioned it's the best IBIS I've used on a Fujifilm camera to date.
Fujifilm has included some really nice capabilities for video shooters. The camera features F-LOG support as well as 4:2:0 8-bit internal and 4:2:2 10-bit external via the micro HDMI output.
Frame rate support gives us 4k up to 30fps and 1080p up to 60fps. You can also enable a "Full HD high-speed recording" which will record up to 240fps in HD conformed to a file that plays back up to 59.94fps. This will give you up to 10x slow motion files rendered in-camera. There is a crop to consider in this mode, but this feature's inclusion means there are some options for high frame rates in video.
The only catch in video with the X-S10 is that internal recording time is limited to 30 minutes per clip. This is somewhat to be expected in a compact camera, especially at this price. I wouldn't consider this a deterrent for general usages such as B-Roll or vlogging. If that time limit really bothers you, using an external recorder will obviously have no time limitations and you get the added benefit of the aforementioned 10-bit 4:2:2 output.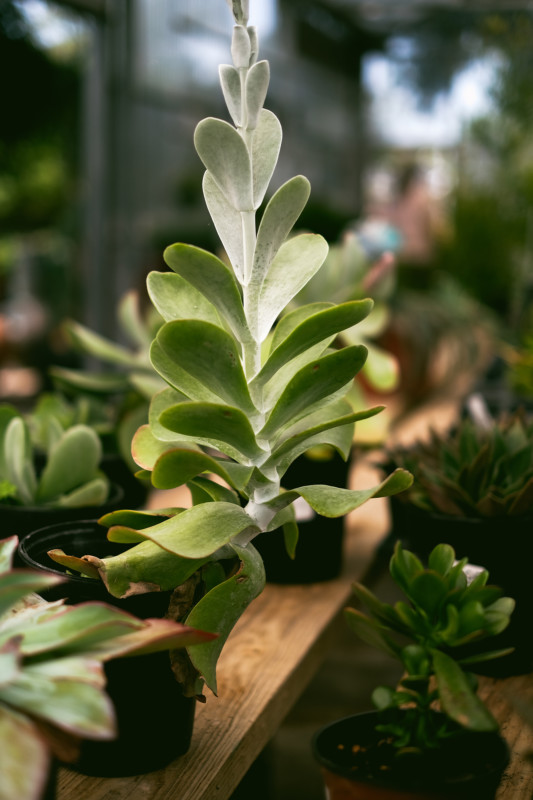 Fujifilm has also done an excellent job with how the camera handles exposure changes in video. One of my gripes with trying to vlog with Fujifilm cameras in the past is when ISO and even white balance change in a moving shot – you could actually see the exposure stepping in a noticeably jerky fashion in 1/3 stop increments. When filming with the X-S10, exposure changes are quick and smooth – you don't notice rapid light changes. This is a huge feature for run-and-gun filmmakers or vloggers. This was improved in July with a firmware update on the X-T4, but it's nice to see this working out of the box with the X-S10.
The Verdict
After using this camera over the last week, I've been quite impressed. Sure it's not an X-T4, but the sacrifice of some performance is a well-planned tradeoff considering the X-S10 comes in at a much more approachable price. One thing is clear: this camera is still very capable.
Photographers and video shooters on a budget are going to find the X-S10 to be one of the best "bang for the buck" interchangeable lens body options on the market. And because of the compact size, I think anyone looking for a really nice travel camera would be extremely happy with it as well. This will also make it very attractive to vloggers and content creators.
But it does beg the question…
The double-digit Fujifilm cameras such as the X-T10, X-T20 and X-T30 are derived from an upper flagship model (X-T1, X-T2, X-T3). The X-S10 as of now is out on its own. Less expensive than the X-T cameras, and more expensive than the X-T200, it makes one wonder if there might be an X-S1 in the works, possibly replacing the now discontinued X-H1 that has no active replacement. I think it's an interesting possibility that would give Fujifilm another choice in its system, possibly attracting an additional user base favoring a more typical mirrorless design layout.
---
About the author: Ted Forbes is a photographer and filmmaker who creates content for his YouTube Channel, The Art of Photography. He's been making videos there for 12 years from his home in beautiful Fort Worth, TX.